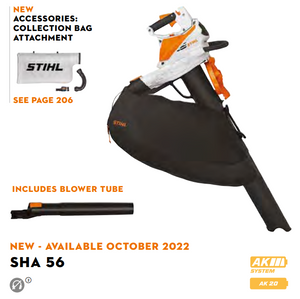 Stihl
SHA 56 w/Battery and Charger
Regular price
Sale price
$715.00
Currently out of stock
- Not in the country yet. Call in store to secure one. 
The first cordless vacuum shredder in the STIHL range. Can be used as a practical 2-in-1 power tool for vacuuming up foliage and hedge cuttings as well as gathering leaves or paper into piles. Converts easily from vacuum shredder to blower – no tools required. Rotatable handle with variable speed regulator for excellent ergonomics in both operating modes.
Additional front handle, metal shredder and padded harness for use as a vacuum shredder. The collection bag hooks onto the suction tube and has an asymmetrical design for maximum legroom. Single shoulder strap collection bag available as an accessory.
Round nozzle and two-setting length-adjustable blower tube when used as a blower. Flat nozzle for increased air speed available as an accessory. 
Product type:
Blowers & Shredder Vacs
Tags:
Blowers & Shredder vacs,
Brand_Stihl
Subscribe to our newsletter