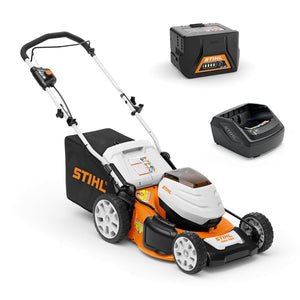 Stihl
RMA 460 Cordless lawn mower
Regular price
Sale price
$1,035.00
The self propelled STIHL RMA 460 V Battery Lawnmower has a steel mowing deck and features Vario-Drive self-propulsion which allows the operator to adjust the mowing speed to their requirements. This Lawn Mower also provides maximum versatility with 4 functions: Mowing, mulching, catching, and side discharge.
The RMA 460 V has automatic speed control (Eco mode) as well as a directly driven blade, these features are energy saving to ensure the best battery life. The handle height is adjustable to provide comfortable operation for all users. 
The easy to use blade height adjustment allows you to adjust the height of the blade in 8 steps from as low as 25 mm. You will also benefit from the wide cutting width of 46 cm and the large 60 L textile catcher.
The RMA 460 V Cordless Lawnmower is part of our AK Cordless System range of tools with interchangeable Batteries - the Battery can be used in other tools in this range including a Hedge Trimmer, Blower, Line Trimmers and Chainsaw.
Run time on the recommended AK 30 battery: Up to 300m² of Lawn
Run time on AK 10 battery: Not recommended
Run time on AK 20 battery: Up to 230m² of Lawn
Tags:
Brand_Stihl,
Cordless/Battery,
Lawnmower,
Type_Lawnmowers
Subscribe to our newsletter