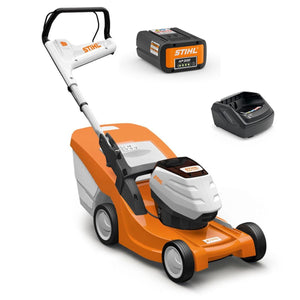 Stihl
RMA 443.0 C (AUS/NZ) Cordless lawn mower
Regular price
Sale price
$1,035.00
The STIHL RMA 443 Battery Lawnmower is suitable for medium sized gardens mowing approx. 420m² on a single battery charge (with recommend battery). The Eco mode and flow optimised blades are energy conserving features to allow the battery to last longer.
The RMA 443 is so simple to use it starts with the push of a button and with the innovative mono-comfort handlebar, it is also easy to access and empty the grass catcher. The sturdy polymer housing is robust but is also lightweight making it easy to move and transport the mower - this is made even easier by the carry handle and foldable handlebar
There is an easy to use blade height adjustment in 6 levels so you can achieve your desired lawn height 
The RMA 443 Cordless Lawnmower is part of our AP Cordless System - the battery can be used on a wide range of other tools from the AP range.
Run time with recommended AP 200 battery: up to 420 m²
Run time with AP 100 battery: up to 240 m²
Run time with AP 300 battery: up to 500 m²
Run time with AP 300 S battery: up to 600 m²
Tags:
Brand_Stihl,
Cordless/Battery,
Lawnmower,
Type_Lawnmowers
Subscribe to our newsletter