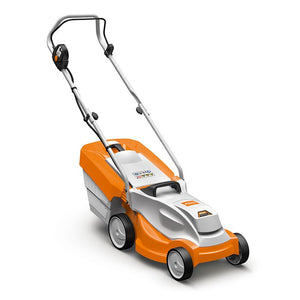 Stihl
RMA 235.0 (RoW) Cordless lawn mower
Regular price
Sale price
$455.00
The light and manoeuvrable STIHL RMA 235 Battery Electric Lawnmower is ideal for small gardens with lots of confined spaces. The motor unit is equipped with an always-on eco mode, which together with the flow-optimised blade ensures maximum efficiency when mowing, so the battery lasts longer – mowing up to approximately 250m² of lawn on a single charge using the recommended AK 20 battery.
Its 30 L catcher features a useful folding mechanism that makes emptying the catcher particularly easy, as well as a convenient level indicator so you'll know when it's the best time to empty the clippings. The central cutting height adjustment allows you to choose from five height settings up to 65mm to suit your preferred grass length.
The RMA 235 Battery Electric Lawnmower is part of our AK Battery System range of tools with interchangeable Batteries - the Battery can be used in other tools in this range including a Hedge Trimmer, Blower, Line Trimmers and Chainsaws.
Run time on recommended AK 20 battery: Up to 250 m²
Run time on AK 10 battery: Not recommended
Run time on AK 30 battery: Up to 300 m²
Tags:
Brand_Stihl,
Cordless/Battery,
Lawnmower,
Type_Lawnmowers
Subscribe to our newsletter