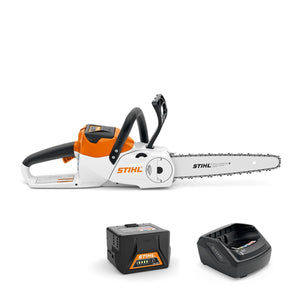 Stihl
MSA140 C-B Battery Saw - Kit
Regular price
Sale price
$735.00
Standard Bar Length: 12"/ 30 cm
STIHL Battery Range: AK 20/ AK 30
Run Time Standard Battery: 45 mins / 180 cuts
Weight: 2.6 kg
The MSA 140 C-B Electric Battery Chainsaw delivers excellent performance and is ideal for cutting firewood and general property clean-up. The MSA 140 has 25% more power than the MSA 120 Battery Chainsaw.
This Chainsaw is compact and lightweight at 2.6kg and it's so simple to use - just pop in the battery and go! The MSA 140 C-B is also packed with innovative STIHL technology, such as Quick Chain Tensioning so you can tighten the chain without tools and the Ematic chain lubrication system which results in up to 50% less chain oil consumption. 
The MSA 140 C-B features the exclusive ¼ inch STIHL PICCO saw chain which assures clean, smooth cuts.
The MSA 140 C-B is part of our AK Cordless System range of tools with interchangeable batteries - the battery can be used in other tools in this range including a Hedge Trimmer, Blower, Line Trimmers and Lawn Mowers.
Run time on recommended AK 30 battery: Up to 45 minutes or 180 cuts
Run time on AK 10 battery: Up to 18 minutes - Battery not recommended
Run time on AK 20 battery: Up to 40 minutes - Battery not recommended
Run times quoted are based on ideal operating conditions. Times will vary depending on load and conditions.
Product type:
Chainsaw Consumer
Tags:
Brand_Stihl,
Type_Battery Chainsaws
Subscribe to our newsletter