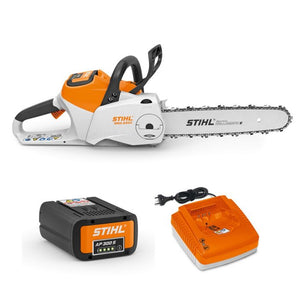 Stihl
MSA 220.0 T Cordless chain saw,30cm/12"
Regular price
Sale price
$1,195.00
The STIHL MSA 220 C is a professional Battery Chainsaw. It's rugged and durable design makes this saw ideal for the demanding applications faced by professional operators. The MSA 220 C is fitted with 3/8 Picco Super saw chain as standard. This saw chain is designed for professional applications and offers exceptionally high cutting performance.
When used with the AP 300 S battery and due to its powerful EC Motor, the MSA 220 C offers performance that matches the high levels of our petrol range.
The MSA 220 C-B is part of our AP Cordless System - the battery can be used on a wide range of other tools from the AP range
Run time with recommended AP 300 S battery: up to 45 min
Other Batteries are not recommended for the MSA 220 C-B
Product type:
Chainsaw Commercial
Tags:
Brand_Stihl,
Chainsaw,
commercial,
electric,
Type_Battery Chainsaws
Subscribe to our newsletter