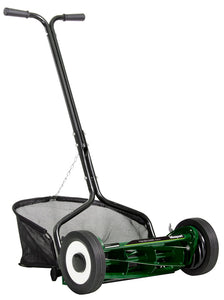 Masport
Masport Cleveland 18"
Regular price
Sale price
$339.00
Sick of those lightweight hand mowers that are so light they skid over the grass without cutting it? Then the Masport Cleveland 460 Heavy Duty Hand Mower is the solution.
The heavy-weight cast alloy wheels fitted with solid rubber tyres provide remarkable traction, unseen on other hand mowers. A precision heat treated 6 blade alloy-steel cutting cylinder and bottom blade cut the lawn cleanly, much like a pair of scissors, delivering a manicured professional looking finish each and every time. Completely serviceable, the cutting system can be re-sharpened to ensure continuous precise cutting and a long working life. The comfortable T-style handle allows this hand mower to be easily manoeuvred throughout the garden while the included fabric catcher conveniently catches the grass for ease of disposal.
This premium hand mower, constructed in Heavy Duty steel is fully adjustable and will deliver a quality finish which will be the envy of your neighbours.
Heavy Duty Premium Hand Mower, 460mm (18") cutting width, 9" Cast alloy wheels with solid
rubber tyres, Strong steel drive pinions, Heat treated alloy steel cutting cylinder and bottom blade, 6
Bladed cutting cylinder with precision bearings, Resharpenable blades, T-style handle with cushion
grips, Robust Fabric Catcher, 17.1kg Weight, 2 Year Warranty
Tags:
Brand_Masport,
handmower,
Lawnmower,
Type_Push Mowers
Subscribe to our newsletter