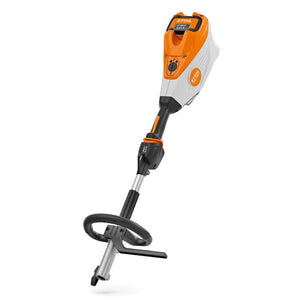 Stihl
KMA 135 R Cordless KombiMotor
Regular price
Sale price
$735.00
The STIHL KMA 135 R is a robust and powerful Battery CombiEngine that delivers professional performance on par with similar petrol tools. With a range of attachments available, the KMA 135 R provides users the ability to tackle many landscaping jobs without loading the trailer with a pile of tools. The on-board battery slot can support either the AP batteries or a backpack battery for even longer run times.
The KMA 135 R is exceptionally easy to use starting at the push of a button, and the variable throttle trigger offers three performance levels. The KMA 135 R has all the benefits of Battery technology, low noise, no emissions and low maintenance requirements.
Versatile use due to wide range of STIHL CombiTools attachments: Trimmers, Blowers, Hedge Trimmers, Edgers, Pruners, Cultivators and more. Each attachment slides into the CombiMotor effortlessly and is secured via a quick-release coupling system, saving you time as well as space.
Note: The KMA 135 R cannot be used with the FSB-KM brushcutter.
The KMA 135 R is part of our AP Cordless System - the battery can be used on a wide range of other tools from the AP range.
Run time with the recommended AP 300 S battery: Up to 45 mins on Level 1-3
Run time with AP 100 battery: up to 14 mins on Level 1-3
Run time with AP 200 battery: up to 28 mins on Level 1-3
Run time with AP 300 battery: up to 36 mins on Level 1-3
Run time with AR 1000 battery: up to 100 mins on Level 1-3
Run time with AR 2000 battery: Up to 150 mins on Level 1-3
Run time with AR 3000 battery: Up to 190 mins on Level 1-3
Product type:
Combi systems & Attachments
Tags:
Brand_Stihl,
Combi system machine,
electric,
Type_Combi System (Battery)
Subscribe to our newsletter