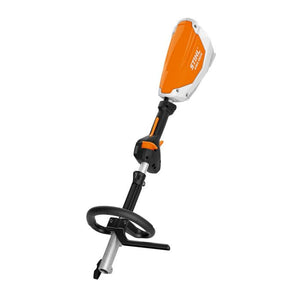 Stihl
KMA 130 R Cordless KombiMotor
Regular price
Sale price
$745.00
The KMA 130 R is a powerful Cordless CombiEngine that can power a range of attachments. While using this tool the Battery is worn at either the hip or on the operators back reducing the weight of the tool to only 3.2kg, this is therefore the lightest CombiEngine in the range. It is to be used in conjunction with AP batteries connected via the battery belt or carrying system with connecting cable, or an AR backpack battery. The low vibration levels improve the operators comfort levels further.
The KMA 130 R is exceptionally easy to use starting at the push of a button, and the variable throttle trigger offers three performance levels. Like the other STIHL Cordless products, the KMA 130 offers all the benefits of Battery technology, low noise, no emissions and low maintenance requirements.
Attachments include: Trimmers, Blowers, Hedge Trimmers, Edgers, Pruners, Cultivators and more. Each attachment slides into the CombiMotor effortlessly and is secured via a quick-release coupling system, saving you time as well as space.
The KMA 130 is part of our AP Cordless System - the battery can be used on a wide range of other tools from the AP range.
The STIHL AP BAG WITH CABLE
 

accessory is required to transfer the energy from the AP Battery to the tool.
Run time with the recommended AR 1000 battery: Up to 105 mins on Level 1, 50 mins Level 3/4
Run time with AP100 battery: up to 16 mins on Level 1, 7 mins Level 3/4
Run time with AP 200 battery: up to 30 mins on Level 1, 14 mins Level 3/4
Run time with AP 300 battery: up to 38 mins on Level 1, 18 mins Level 3/4
Run time with AP 300 S battery: up to 47 mins on Level 1, 22 mins Level 3/4
Run time with AR 2000 battery: Up to 154 mins on Level 1, 73 mins Level 3/4
Run time with AR 3000 battery: Up to 193 mins on Level 1, 92 mins Level 3/4
Product type:
Combi systems & Attachments
Tags:
Brand_Stihl,
Combi system machine,
electric,
Type_Combi System (Battery)
Subscribe to our newsletter