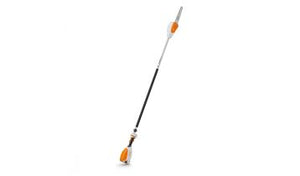 Stihl
HTA 66 Cordless Pole pruner,30cm/12"
Regular price
Sale price
$845.00
The STIHL HTA 66 is a very lightweight Battery Pole Chainsaw that is exceptionally easy to use as it starts at the push of a button. It is suitable for fruit growers and Arborists, or for general property maintenance. The lightweight power head provides easy manoeuvrability and good balance, and there is a handy branch hook to remove loose clippings stuck in the tree.
Because cordless products are so quiet this tool is especially good for using in urban areas. The 1/4 inch PM3 chain provides a smooth cutting performance. The HTA 66 has the convenience of side chain tensioning and a captive nut of the sprocket cover. The total length is 240 cm.
The HTA 66 is part of our AP Cordless System - the battery can be used on a wide range of other tools from the AP range.
Run time with recommended AP 200 battery: Up to 42 min
Run time with AP 100 battery: Not recommended
Run time with AP 300 battery: Up to 55 min
Run time with AP 300 S battery: Up to 68 min
Run time with AR 1000 battery: Up to 125 min
Run time with AR 2000 battery: Up to 180 min
Run time with AR 3000 battery: Up to 230 min
Product type:
Power Tools other
Tags:
Brand_Stihl,
other,
Pole pruner,
Power tools
Subscribe to our newsletter