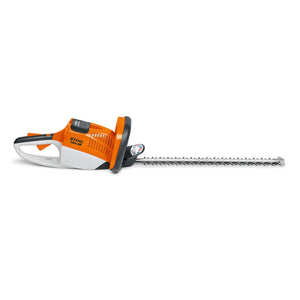 Stihl
HSA 66 Cordless hedge trimmer, 500mm/20"
Regular price
Sale price
$365.00
The light HSA 66 Battery Hedge Trimmer has an efficient EC-motor that provides great cutting performance and maintains a constant stroke rate even during tough jobs.
Double-sided blades cut smoothly and efficiently on both the upwards and downwards stroke. The blades are droplet shaped and diamond ground which helps to guide branches between the cutting teeth for a precise and even finish - even through thick and tough shrubbery. The 50cm blade is an efficient working length for most applications and a tip protector helps protect the blade tip from damage.
Featuring long run times with no gradual drop in the tools performance – the HSA 66 runs at full power until the battery is fully depleted.
The HSA 66 is part of our AP Cordless System - the battery can be used on a wide range of other tools from the AP range.
Run time with the recommended AP 100 battery: up to 72 min
Run time with AP 200 battery: up to 144 min
Run time with AP 300 battery: up to 180 min
Run time with AP 300 S battery: up to 223 min
Run time with AR 1000 battery: Up to 450 min
Run time with AR 2000 battery: Up to 660 min
Run time with AR 3000 battery: Up to 800 min
Product type:
Hedgetrimmer
Tags:
Battery,
Brand_Stihl,
Hedgetrimmer,
Type_battery Hedgetrimmers
Subscribe to our newsletter