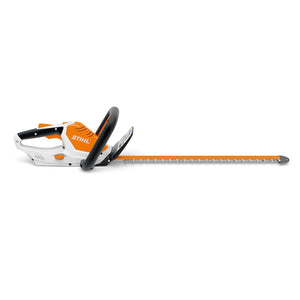 Stihl
HSA 45 Cordless hedge trimmer, 500mm/20"
Regular price
Sale price
$215.00
The STIHL HSA 45 Battery Hedge Trimmer is perfect for trimming hedges and shrubs in your garden. This is a high quality tool that is built to last at an affordable price. Battery tools provide maximum freedom to work with no cables to hold you back, and this tool is very lightweight so it is easy to manoeuvre and use for long periods at a time without tiring. The precision-ground blades deliver a neat cut. 
You'll be amazed at how easy this Hedge Trimmer is to use - simply pop in the activation key, switch it on and go. It is also so quiet you do not need to wear ear protection. The HSA 45 has an integrated Lithium-Ion battery, that you charge like a cell phone. The high performing STIHL batteries offer consistent performance with no reduction in power as the battery depletes.
Run time with integrated battery: up to 40 minutes
Product type:
Hedgetrimmer
Tags:
Battery,
Brand_Stihl,
Hedgetrimmer,
Type_battery Hedgetrimmers
Subscribe to our newsletter