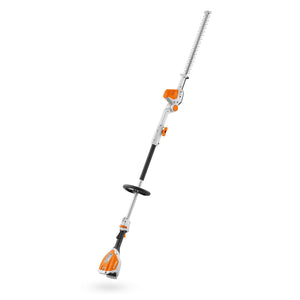 Stihl
HLA 56 Cordless Hedgetrimmer
Regular price
Sale price
$460.00
The HLA 56 is a light Cordless Long Reach Hedge Trimmer which can be used for cutting taller hedges in your garden. You can cut branches up to 16 mm in diameter and the cutting head is adjustable to cut angles ranging from -45° to +90° offering you a lot of versatility.
The total length of the HLA 56 is 210 cm, you can safely trim tall hedges without standing on a ladder and for storage and transportation it can be quickly taken apart without the need for tools (when taken apart the longest section is 115 cm). For really tall hedges we have an optional 50 cm extension shaft available.
The double-sided blades cut smoothly and efficiently on both the upwards and downwards stroke. The blades are droplet shaped which helps to guide branches between the cutting teeth for a precise and even finish.
The HLA 56 is part of our AK Battery System range of tools with interchangeable batteries - the battery in this tool can also be used in other tools in this range including a Line Trimmer, Blower, Lawnmowers, and Chainsaws.
Run time on recommended AK 20 battery: Up to 100 minutes
Run time on AK 10 battery: Up to 50 minutes
Run time on AK 30 battery: Up to 120 minutes
Product type:
Hedgetrimmer
Tags:
Battery,
Brand_Stihl,
Hedgetrimmer,
Type_Hedgetrimmer
Subscribe to our newsletter