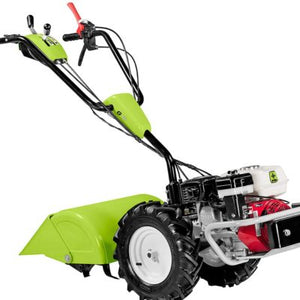 Grillo
Grillo G45 Rotary Tiller
Regular price
Sale price
$3,267.00
Grillo G45 has gearbox driven tines and is suitable for tough jobs in top end domestic or semi-commercial applications.
The counter-rotating tiller is used to break the superficial layer of the ground so that its permeability is increased and at the same time, rid the soil of weeds. This model has been developed to work on particularly hard soil, densely packed earth and older lawns.
The tines turn in the opposite direction to the driving wheels, making the machine cling to the ground and till the soil more aggressively. Another benefit of counter-rotating tines is increased stability. In other tillers the tines drive faster than the wheels to penetrate the earth, but if a root or object is struck the tines jerk the machine forward without warning. Counter rotation minimises this effect as the wheels drive forward keeping the machine stable as the tines turn in the opposite direction.
G45 rotary hoe is suitable for top end domestic use or light commercial applications
50 cm tilling width
Counter rotating tines
All gear drive
Adjustable handles with anti-vibration
1 forward + 1 reverse gear
Front balance weight
Product type:
Walking Tractor
Tags:
Brand_Grillo,
Rotary Hoes & Tillers
Subscribe to our newsletter