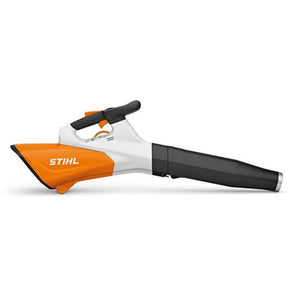 Stihl
BGA 200 Cordless Blower
Regular price
Sale price
$845.00
With nearly nearly 25% more blowing force than the BGA 100, the BGA 200 Leaf Blower is the most powerful battery-powered Blower in the STIHL range. The BGA 200 is very lightweight, as the battery is worn on your back.
Offering maximum versatility the BGA 200 can be used as a hand held Blower or when combined with the carrying system, it can also function as a backpack Blower. This model is extremely quiet, for a Blower that can move a huge amount of air, useful in noise-sensitive areas. Operators can adjust the Blower tube length with a single push of a button and a metal ring provides durability and protection against wear. The speed trigger is variable with three power levels as well as boost for those really tough jobs.
The BGA 200 also has a cruise control function that allows users to maintain their desired blowing force without holding the trigger.
Product type:
Blowers & Shredder Vacs
Tags:
Blowers & Shredder vacs,
Brand_Stihl,
Electric,
Leaf Blower,
Type_Battery Blower,
Type_Blower
Subscribe to our newsletter